Daniel Ryley Appointed as Vice President of Corporate Attraction at the Metro Denver Economic Development Corporation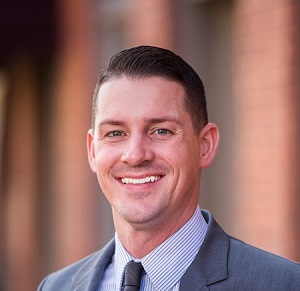 DENVER—Metro Denver Economic Development Corporation (EDC) is thrilled to announce the appointment of Daniel Ryley as the organization's Vice President of Corporate Attraction. The Metro Denver EDC, an affiliate of the Denver Metro Chamber of Commerce, is the nation's first regional economic development entity, bringing together the entire nine-county Metro Denver and Northern Colorado region to promote and support the mutual growth of our region's talent and businesses, while also recruiting new talent and new business to the region. Ryley will join the team on July 24.
"Daniel has a sterling reputation across Colorado's business community for professionalism and delivering on critical opportunities," said Raymond H. Gonzales, President of Metro Denver EDC. "With a track record of success and two decades of experience as a practitioner of economic development in Colorado, we know he will have a short learning curve and create an immediate impact on our organization and the larger business community."
Ryley is a Colorado native and holds a bachelor's degree in organizational leadership from Colorado State University. In 2018, he earned the Certified Economic Developer designation through International Economic Development Council and earned an Executive Certificate in Commercial Real Estate from the University of Colorado in 2023.
Ryley most recently served as Executive Director of Arvada Economic Development Association (AEDA), where he oversaw economic development initiatives and efforts for the City of Arvada. At the AEDA, he led the deployment of capital, technical assistance and local policy improvements to support business expansions, relocation and commercial real estate development projects.
He currently volunteers as President of the Board of Directors to B:Side Capital and B:Side Fund, and as Community Advancement Chair for the International Council of Shopping Center's Rocky Mountain Region. Ryley recently championed the passage of House Bill 23-1189, a tax credit for businesses to contribute to home down payment savings for employees.
"I am honored and incredibly excited to be joining the Metro Denver EDC team, where I will bring my passion and experience in supporting businesses and communities through economic development to the broader Metro Denver region," said Ryley. "I look forward to collaborating with my economic development peers across the Front Range on new business attraction, investment, and ongoing cultivation of a friendly business environment to bring more great employment opportunities to our community."
About the Metro Denver EDC:
Often called a "center of influence," the Metro Denver EDC was the nation's first regional economic development organization. A division of the Denver Metro Chamber of Commerce, from Castle Rock to Fort Collins and Golden to Greeley, we represent the nine counties and 66 communities that contribute to our robust economy and incredible culture. As the economic development function of the broader Denver Metro Chamber of Commerce, the EDC serves a 9-county territory that represents two-thirds of the state's population and three-quarters of the GDP.
About the Denver Metro Chamber of Commerce:
For 156 years, the Denver Metro Chamber of Commerce has been a leading voice for Colorado's business community. With a membership that spans the state, the Chamber is an effective advocate for small and large businesses. The Chamber's family of organizations includes the Metro Denver EDC, the Denver Metro Chamber Leadership Foundation, the Denver Metro Small Business Development Center, the Colorado Competitive Council and B:CIVIC. For more information, go to denverchamber.org.